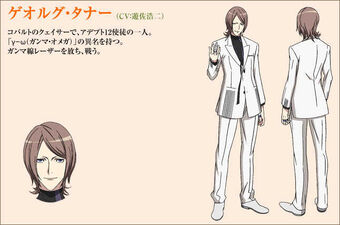 Younger brother of Friederich Tanner, known as Gamma Omega, he is eighth in the Adepts' hierarchy and he can control both cobalt and gamma rays, creating destructive, laser-like beams from an elaborate ornament he has on his right hand, which he constantly cleans and admires. He is highly narcissistic and arrogant, boasting his aristocratic origins with pride and treating others as inferior beings. He shares the same beliefs as his older brother Friederich, hoping like him to destabilize Europe and bring back the Holy Roman Empire, led by his native Germany. He has an especially bitter rivalry with Jita Phrygianos and her brother, considering them unworthy to be Adepts, and almost had her killed after provoking her into a fight, forcing her to take the blame. When his brother attempted to unseal the Theotokos, he was to defend him from Sasha, Ekaterina, and Tasuku, aided by Aoi Kuchiba and Milk. The fight proved to be too much for him, however, and he had his face greatly disfigured by Sasha's scythe before being almost burnt when the three Qwasers united their efforts to stop Friederich. Severely wounded, he was dragged from the battlefield by Aoi.
Ad blocker interference detected!
Wikia is a free-to-use site that makes money from advertising. We have a modified experience for viewers using ad blockers

Wikia is not accessible if you've made further modifications. Remove the custom ad blocker rule(s) and the page will load as expected.